Top online programs in 2017
Online programs recognized among best in Oregon, nationwide
News contact:
Laura Hancock
, University Advancement, 541-962-3585
LA GRANDE, Ore. November 21, 2016 – Affordable Colleges Online, a resource for online learning and college affordability information, released its new rankings of the best online colleges in the state and Eastern Oregon University is one of the top five.
EOU also stands nationally among the top 25 online colleges for bachelor's degrees in the 2017 guide published by SR Education Group.
"These rankings acknowledge not only EOU's flexibility, which our students value so much, but also the academic quality, personal attention, and career guidance they receive from faculty and their regional advisors," said Donald Wolff, vice provost who oversees the university's distance education program.
According to a recent study by the Babson Survey Research Group, the online student population in the country is now over seven million, including 14 percent of undergraduate students in Oregon who are enrolled in at least one online class.
EOU's student population reflects this trend, with 80 percent of its 2016 graduates taking online classes and more than 2,000 enrolled exclusively online. The university offers 17 majors and 15 minors entirely at a distance with additional endorsements, certificates and graduate degrees available.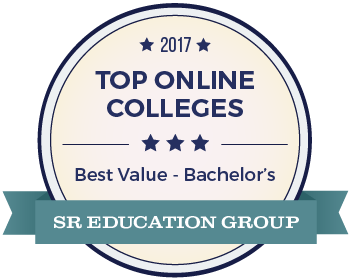 EOU's online cost is competitive, with students paying $218 per credit hour compared to an average of $385 per credit hour at other institutions. More than $12 million in scholarships and financial aid is also awarded annually to university students.
Personal academic advising is another support service EOU provides to all students – in person and at a distance – and advisors work at 11 regional center locations across the state.
Several individual online programs are also garnering top rankings, with EOU's exercise science degree appearing second on SR Education Group's new list of top 15 colleges offering this program.
Earlier this month, BestDegreePrograms.org named the university's online bachelor's of English degree as one of the best in 2016. OnlineU recognizes EOU for its affordable degrees in anthropology, sociology, economics and political science.
The university's online business degree is considered a best value in 2017 by DiscoverBusiness.us, and its psychology program is number eight on the list of top ranked online psychology programs on PsychologyDegree411.com.
In 2016, EOU's fire services administration program – the only bachelor's level degree in this field available in Oregon – appeared on two independent lists for the most affordable online colleges and best online programs published by OnlineU and BestColleges.com. For more information on additional rankings awarded in 2016, see related article.
For more information and a complete list of programs, visit eou.edu/online.
To qualify for AC Online's rankings, universities must be public, not-for-profit institutions and offer at least three online bachelor's degree programs with an annual tuition fee less than $25,000. The ranking scale uses a Peer-Based Value, or PBV, which compares the cost of each program to the cost of similar programs with the same qualitative score. Schools were also evaluated on the percent of full-time undergraduate students receiving institutional financial aid and student-to-teacher ratio.
SR Education Group's rankings take into account academic strength and affordability to provide a list of colleges offering high-quality online education at the best value. Colleges on the list have annual tuition rates of $15,000 or less and offer at least 10 fully online degrees.
---
Spread the word.
---