Meet the ASTEO Scholars
NSF grant continues to bring STEM scholarships to rural Oregonians
Dec. 12, 2018 LA GRANDE, Ore. –  A $600,000 grant from the National Science Foundation initiated funding that provides scholarships for four new science and technology students at Eastern Oregon University.
Advancing Science and Technology in Eastern Oregon (ASTEO) began three years ago when EOU chemistry professor Anna Cavinato received the program's original grant. Since then, 20 students from rural areas have benefitted from its scholarships as they pursue degrees in science, technology, engineering or mathematics (STEM).
Cavinato explained that this year's freshmen are actually supported by fee remissions that EOU President Tom Insko approved last fall. She said the grant would have only provided funding for transfers in its third year, but Insko approved the fee remissions so freshmen could continue to benefit from the program. She said this move to institutionalize the grant is a positive one that recognizes the impact ASTEO has already had at EOU.
"ASTEO Scholars are on-campus students with a passion for science and technology," Cavinato said. "This program captures how the university works as an educational and economic engine for rural places in the state."
As members of the program, ASTEO Scholars participate in hands-on learning activities, attend monthly activities with STEM faculty, live in STEM-specific residence halls, complete summer internships, and often become STEM Ambassadors.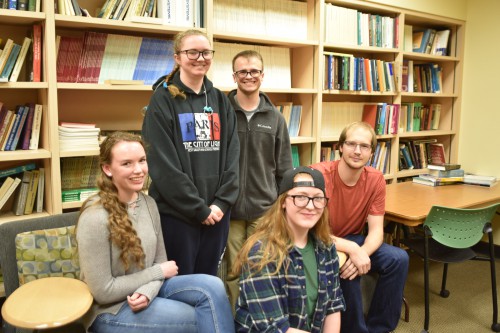 "The ambassadors are very involved with campus activities," Cavinato said. "They help facilitate recruiting trips, demonstrations, lab tours, and other opportunities for prospective students to explore STEM fields at EOU. They are also mentors and tutors for other current EOU students."
This year's STEM Ambassadors are Ryan Bailey (Computer Science), Haley Breen (Biology), Quentin Durfee (Chemistry/Biochemistry), Darin Hauner (Computer Science, Chemistry), Emerald Tresch (Chemistry/Biochemistry) and Jamie Waltenburg (Biology).
The 2018-19 cohort of new ASTEO Scholars includes Darin Hauner (Computer Science, Chemistry), Michael Hefley (Mathematics), Harrison Smith (Biology), Isabella Evans (Computer Science) and Korie Klein (Chemistry/Biochemistry).
ASTEO Scholarship applications close Feb. 1, and details about how to apply are available at eou.edu/asteo.
Meet the 2018-19 ASTEO Scholars: 
---
Spread the word.
---