MFA faculty member wins Oregon Book Award
MFA faculty member wins Oregon Book Award
News contact: Laura Hancock | University Advancement
541-962-3585 or 
lhancock@eou.edu
April 22, 2015
LA GRANDE, Ore. (EOU) – Eastern Oregon University faculty member Justin Hocking received the 2015 Oregon Book Award for Creative Nonfiction for his memoir "The Great Floodgates of the Wonderworld" (Graywolf Press).
The winners were announced April 13 at the 28th annual Oregon Book Awards ceremony in Portland.
Hocking is also the recipient of a $3,000 Oregon Literary Fellowship grant this year. In "The Great Floodgates of the Underworld" he chronicles his time living and working in New York City, focusing on the intersection of his two Brooklyn obsessions: surfing at Rockaway Beach and Herman Melville's novel "Moby Dick."
Hocking made many "best of" lists last year, including a Barnes & Noble Discover Great New Writers selection. His memoir was also named as one of Ten Brilliant Books That Will Grab You from Page One in Kirkus Reviews and The Huffington Post, among many other distinctions.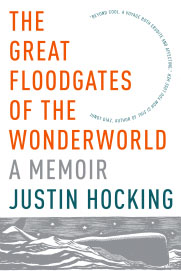 Hocking is the co-founder of the Wilderness Writing Concentration of the low-residency Master of Fine Arts in Creative Writing program at EOU. He teaches non-fiction and is the author of numerous zines and 13 books, including "Life and Limb" (Soft Skull Press).
A native westerner, Hocking earned a master of fine arts in creative writing from Colorado State and worked in the New York publishing industry before moving to Portland, where he spent time as executive director of the Independent Publishing Resource Center (IPRC), a do-it-yourself publishing community. He has also served as editor of "Life and Limb: Skateboarders Write from the Deep End."
For more information about the MFA degree visit www.eou.edu/mfa or contact David Axelrod, program co-director, at daxelrod@eou.edu.
---
Spread the word.
---