Integrative studies program among best online liberal arts degrees
Integrative studies program among best online liberal arts degrees
News contact: University Advancement
Phone: 541-962-3740| E-mail: ua@eou.edu
---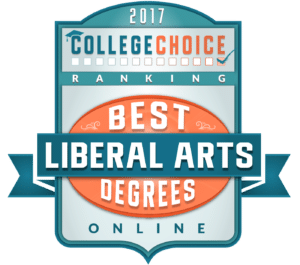 La Grande, Ore.
– College Choice has ranked Eastern Oregon University's online bachelor's in integrative studies program among the
top 25 best
online liberal arts degrees in the country.
"The course seeks to instill certain valuable habits of mind including intellectual dexterity, critical thinking, an appreciation of diversity, and self-reflection in the context of interdisciplinary studies," Capstone Advisor Jim Benton said of EOU's online integrative studies program. "We hope the course prepares our students well for the complex realities of their academic and professional lives well into the future."
EOU landed 20th in the line-up that included private, research, and land-grant universities across the country. Partner institution Oregon State University took the top spot overall.
College Choice, an independent online publication, considered reputation, affordability, return on investment and accessibility to compile the annual list. Each university was scored based on average credit hour cost, financial aid awarded, academic reputation and PayScale's average early career salary for its graduates.
Online tuition at EOU is one of the most affordable on the list, at $218 per credit hour. Some for-profit institutions in Oregon and across the country come in at $385 per credit. EOU also awards more than $12 million in scholarships and financial aid annually.
This recognition follows EOU's recent distinction by The Best Schools for its online early childhood education program that ranks first in Oregon and 16th in the nation.
To learn more about EOU's integrative studies programs, visit eou.edu/is. For information on other recent top rankings, go to eou.edu/news-press/online-rankings-2017.
---
Spread the word.
---