Ceramic sale helps students attend national conference
Ceramic sale helps students attend national conference
News contact: Laura Hancock | University Advancement
541-962-3585 | lhancock@eou.edu 
Source contact: Peter Johnson | Associate Professor of Art
541-962-3541 | pjohnson@eou.edu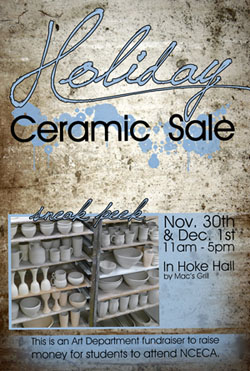 November 23, 2011
LA GRANDE, Ore. (EOU) – The EOU art department will hold a Holiday Ceramic Sale from 11 a.m. to 5 p.m., Nov. 30-Dec. 1 in the Hoke Union Building in the main entry by Mac's Grill.
Proceeds from the sale of original pieces will enable EOU students to attend the National Conference on Education and the Ceramic Arts in Seattle this March. Cash purchases only will be accepted.
For more information contact Peter Johnson, associate professor of art, at 541-962-3541.
---
Spread the word.
---