FBLA regional competition brings high school students to EOU
FBLA regional competition brings high school students to EOU
Feb. 6, 2018 La Grande, Ore. — Teenagers in dress shirts and blazers roamed Eastern Oregon University's campus on Feb. 1 for the regional Future Business Leaders of America (FBLA) competition.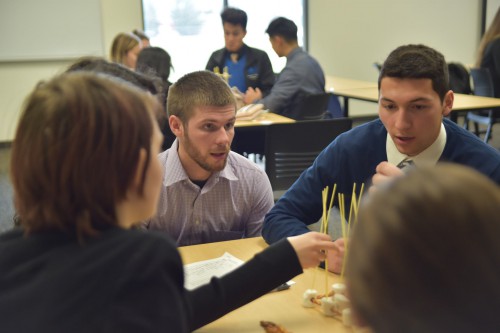 Each year, EOU hosts the high school clubs as they participate in public speaking sessions and take knowledge tests. Approximately 400 local students attended this year, representing 13 regional high schools.
EOU's College of Business helps coordinate the event, and reported that high school students from Nyssa, Vale, John Day, Heppner, Imbler, Wallowa, Elgin, Helix, La Grande, Milton-Freewater, Union, Baker and Ontario spent the day on campus.
For the first time, EOU staff and students offered special workshops for the competitors to attend between sessions. Justin Chin, director of EOU's Career Center, hosted a "Dress for Success" workshop about the basics of looking the part in the professional world. Sandy Henry, of EOU's Financial Aid Office, walked students through the process of applying for and receiving financial aid in college. Finally, students from the National Millennial Community and the Entrepreneurship Club organized a "Team Building and Leadership" workshop, where teams worked together to create freestanding structures out of uncooked spaghetti and marshmallows.
The top individuals from this round of competition advance to the state tournament in Portland this April. For more information about this and other outreach events in the Colleges of Business and Education, contact Tonya Williams at tlwilliams@eou.edu or visit eou.edu/business.
---
Spread the word.
---