Faculty art, poetry featured in Basalt
New issue of Basalt 'still beautiful in its bones'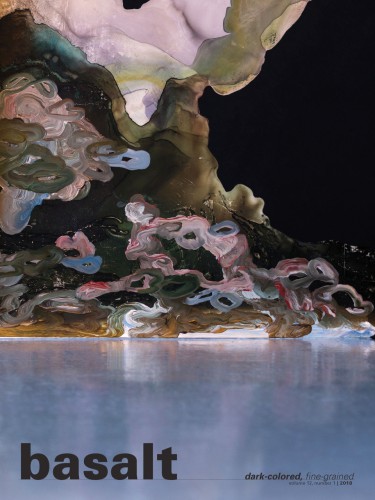 May 28, 2018 LA GRANDE, Ore. – Following this winter's exhibition and gallery talk, Eastern Oregon University art professor Susan Murrell's work is featured in the latest edition of the university's fine and literary art journal Basalt.
"For several years, we've wanted to find an opportunity to feature Susan's artwork in Basalt," EOU faculty member and journal editor Jodi Varon said. "As our thinking about the magazine has shifted toward ecologically-oriented arts, her 'Transitional Spaces,' struck us as both powerful and timely work."
Volume 12 of the journal features Murrell's work on the cover and includes 11 full-color images, four black and white images, and an interpretive essay, "Our Infant Eyes," by the artist's friend and former Signal Fire co-director, Amy Wheeler Harwood.
Varon joined English professor David Axelrod in compiling the issue, and the pair also included three of the last poems retired EOU professor Thomas Madden wrote in the days before his death last June.
"We were very fortunate to have Suzanne Madden approach us with a sheaf of poems Tom was working on last spring and that she and her family have been carefully editing," Axelrod said.
The poems evoke western landscapes dear to Madden — the Grande Ronde Valley and the Rocky Mountain Front of Montana where the poet was born.
"Tom's poems in this issue are full of technical virtues, given the care he took to create pronounced rhythms, clear imagery and well-considered diction, but also there's the old gentle irony and humor that others will recognize," Axelrod said. "The man is definitely present still in his words."
The new issue features work by two former State Poets Laureate, Paulann Petersen of Oregon and Tami Haaland of Montana. Heather McElwain's essay, "Haibun for Caribou," about an encounter with the endangered "ghost caribou" of northern Idaho also made the publication.
Copies of the new issue are available for purchase at eou.edu/basalt.
The website has also served as home for a year-long project, "A Forest of Names," commemorating the 10th anniversary of the Sichuan earthquake that killed tens of thousands of people, among them over 4,000 school children who were buried alive in their schools. Varon and Axelrod collaborated with Chinese artist Ai Weiwei and American artist and writer Ian Boyden to publish monthly selections from the commemorative meditations on the names of the children who perished.
"The project has generated worldwide attention in the news media as well as on social media," Axelrod said. "The project grew from an installation by Ai, 'Fault Line,' that revealed the names of the children who died because of government corruption and lax building standards. Their names had disappeared, but Ai was able to find and publish them, which resulted in his being driven into exile."
Axelrod and Varon plan to continue to publish the names and Boyden's meditations on those names throughout 2018.
"It's incredible, really, to think that an artist of Ai's stature is associated with our little magazine here at EOU, but given the importance of the work, it's a powerful reminder of what is always possible," Axelrod said.
For more information about purchasing copies or subscribing, contact David Axelrod at daxelrod@eou.edu.
---
Spread the word.
---