#EOUgives to support scholarships, community
#EOUgives to support scholarships, community
Nov. 16, 2018 LA GRANDE, Ore. – Alzheimer's disease changed Coral Goldstein's life when it came for her father in 2009. He and his wife had adopted Coral, their granddaughter, when she was 2 years old.
Coral attended school in Imbler and built strong friendships with her peers and mentors in the community. Growing up in close proximity to Eastern Oregon University meant that she had visited campus for FBLA competitions and seen EOU admissions counselors at her high school.
But when her adoptive father died in 2016, the family's income faded and finances for higher education drifted farther out of reach. Coral, entering her senior in high school, held firm to her hopes for a better future.
"My father was the only person in my immediate family who had gone to college at all," Coral said. "I knew that he'd want me to keep chasing my dreams, so I applied to EOU."
Coral was admitted and decided to apply for scholarships from the EOU Foundation, which awards more than $600,000 to EOU students each year. Coral received awards from five of the foundation's 99 scholarship funds for the 2017-18 academic year.
"When I opened the scholarship letter, I was overwhelmed with joy," she said. "I looked at my mom and said, 'Somebody else believes in me, too!'"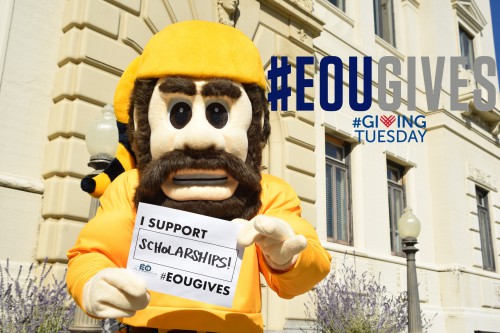 On Giving Tuesday, EOU alumni and stakeholders are sharing their reasons for giving to the EOU Foundation using the hashtag #EOUgives. Nonprofit organizations across the nation participate in the annual initiative to support important causes on Nov. 27, the Tuesday after Thanksgiving. EOU Foundation funds reach every corner of the university, providing scholarship opportunities, lab equipment, athletic and theatre facilities, musical instruments, faculty support and other critical projects.
Support from the Carol Hargett Memorial Scholarship, Joy Veach Dobbin and William J. Dobbin Scholarship, Business Scholarship, Maybelle Clark MacDonald Grant and Forest Fletcher Scholarship enabled Coral to begin her career as a Mountie last fall.
She had earned enough college credit through Eastern Promise at Imbler High School to enroll as a sophomore. Now entering her second year on campus, Coral has declared a psychology major in honor of her father.
"I first became interested in psychology because I wanted to learn more about my father's disease," she said. "I've always wanted to help people in some way, and after taking a few psychology classes I think I'd like to be a counselor."
Coral has discovered a strong support system at EOU, through advisors she can trust and professors who care about her success. Scholarships from the EOU Foundation have empowered her to explore her own potential, and Coral already has her eye on a master's or doctorate degree.
"College gave me the chance to see what's available," she said. "EOU has a variety of good programs and it exposed me to the range of opportunities I can pursue."
To get involved or learn more about the EOU Foundation, visit eou.edu/foundation or contact University Advancement at 541-962-3844. Participate in Giving Tuesday at eou.edu/foundation/giving-tuesday.
---
Spread the word.
---