EOU welcomes young scientists
Young scientists visit campus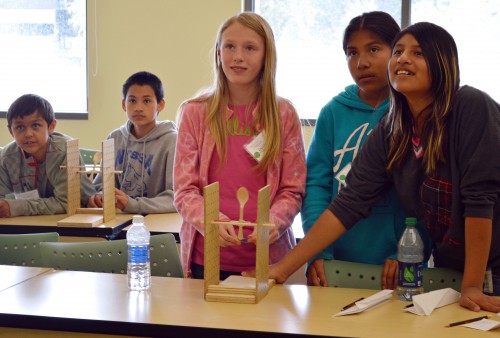 April 10, 2018 LA GRANDE, Ore. –  Elementary and middle school students from Ontario and Nyssa schools look forward to an all-day science workshop April 14 at Eastern Oregon University.
EOU will host 60 small scientists for SMILE Club with activities coordinated and led by EOU students.
SMILE, which stands for Science and Math Investigative Learning Experiences, began as an Oregon State University program that blossomed into local club events.
SMILE Clubs invite minority students, students from low-income households, and those who would be first-generation college students to embark on a pathway from elementary school, through middle and high schools, and on to higher education.
Donna Rainboth, GO-STEM director and an assistant professor in the College of Education, said OSU provides all the necessary materials, including transportation, food and T-shirts for participants and volunteers.
Students from the College of Education's undergraduate education program work with attendees to conduct hands-on science experiments. The EOU students, enrolled in a STEM Methods course, are part of a five-year legacy of hosting the program on campus.
"I am delighted to welcome the SMILE students back to EOU," Rainboth said. "It is a wonderful learning experience for all."
Learn more about GO-STEM programs and events at go-stem.org or contact Donna Rainboth at drainbot@eou.edu.
---
Spread the word.
---