EOU returns to Salem for lobby day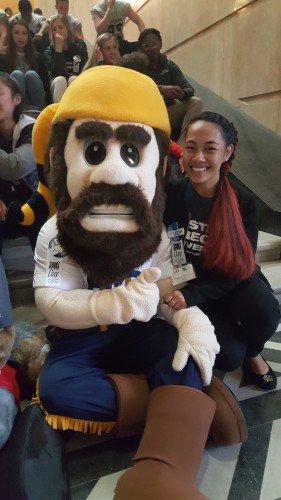 EOU returns to Salem for lobby day
February 9, 2017 SALEM, Ore. – Students, faculty, staff, alumni and trustees from EOU are converging in Salem at the State Capitol for a day of legislative engagement and advocacy for Oregon's public universities Thursday, February 15.
Eastern Oregon University and the other public universities in the state are collaborating on the special event during the 2017 legislative session underway in Salem.
"University Lobby Day is a critical effort where we partner together with students and supporters to advocate for support of higher education funding in Oregon," said Tim Seydel, vice president for university advancement. "Each year our advocates connect with legislators and have a significant impact in communicating the importance and impact of EOU in the state."
Participants meet with state legislators, attend floor sessions of the House and Senate, and connect with other statewide leaders and to discuss statewide priorities for higher education and  present student and campus projects in the Galleria to increase EOU's visibility and awareness.
EOU 2016 alumnus Alex McHaddad, attending his fourth lobby day on behalf of EOU, said, "It's always a pleasure to watch students learn about the legislative process and interact with lawmakers. That human connection is invaluable for legislators looking to make the best decisions for students."
Student travel is arranged by the Associated Students of EOU (ASEOU). Faculty and staff are invited to attend as well. A bus departs from campus on the afternoon of Wednesday, February 14 with attendees who stay overnight in Salem and spend the following day at the capitol. On February 15, EOU's group departs from Salem in the late afternoon and stops at the Woodburn Outlet Mall for dinner before continuing on and returning to La Grande.
"I'm excited because I will be the voice of students who can't make it, and to represent EOU as a whole," said ASEOU President Daysi Bedolla.
Individuals interested in participating can sign up online by visiting eou.edu/ua or by calling University Advancement at 541-962-3740.
---
Spread the word.
---