EOU returns to COCC campus, plans to fill gaps in applied sciences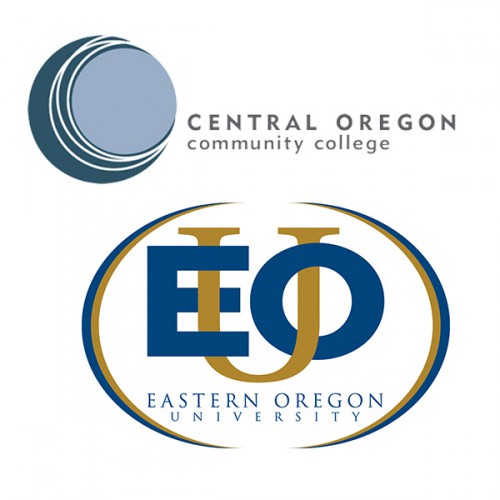 EOU returns to COCC campus,
plans to fill gaps in applied sciences
News contact: University Advancement
Phone: 541-962-3740| E-mail: ua@eou.edu
Source contact: Danny Cecchini | Central Oregon Center Director
Phone: 541-385-1137 | E-mail: dcecchini@eou.edu
---
LA GRANDE, Ore. – Eastern Oregon University and Central Oregon Community College are renewing their partnership to help serve students throughout the central Oregon region.
The new agreement grew out of discussions EOU administrators Danny Cecchini and Michael Jaeger held with COCC President Shirley Metcalf and her administrative team earlier this year. EOU President Tom Insko and President Metcalf will solidify the new partnership with an official Memorandum of Understanding signing ceremony in Bend on Tuesday, June 13 at 1 p.m. on COCC's campus in the Christiansen Board Room, Boyle Education Center.
"We have a long and successful relationship with Eastern Oregon University," Metcalf said. "For many years, Eastern had an office on our campus to better serve our students as they transitioned into EOU programs. When our campus got so crowded a few years ago, Eastern moved their staff off campus, but it was always our intention to have them back when we had enough space.
"With their degree programs that serve some of our Career and Technical Education graduates, they have offerings not otherwise available to our students," Metcalf added.
"We determined that we shared student-centered priorities and the aims of serving unmet needs," said Jaeger, executive director of regional outreach and innovation. "Over the last two months we have developed the MOU and multiple FastTrack Transfer pathways to begin this very positive step in making education both affordable and accessible, but also completely transparent and available to the student."
Jaeger said the team identified several areas where Central Oregon students had few options, and EOU agreed to articulate academic programs to fill existing gaps, particularly in accounting and other applied science degrees.
"One of the things that most excites me about our renewed partnership is bringing the bachelor's of applied science program option to the students of central Oregon where they can continue to expand on the outstanding education they receive from COCC and pursue other careers in their field of choice," said Cecchini, who serves as director of EOU Central Oregon Center.
Students will have the option to pair their COCC applied science degree with an EOU bachelor's of applied science (business) in areas such as aviation, fire services, massage therapy and veterinary technician. The FastTrack pathways offer options for COCC students seeking a variety of bachelor's degrees, including business administration, psychology, fire services administration, physical activity and health. Additional program area pathways continue to be added as the program grows.
Cecchini will serve as the university's presence on campus and work with students from Bend, Prineville, Redmond, Madras and the rest of central Oregon. As the program develops, he will work with administrators, faculty and staff to make EOU a full partner at COCC's Higher Education Center. This first step in building an accessible pathway for central Oregon students will come to life this fall when Cecchini moves into office space on COCC's main campus in Bend.
Contact Danny Cecchini at dcecchini@eou.edu or Seana Barry at sbarry@cocc.edu for more information. For details about FastTrack pathways at COCC and other partner institutions, visit eou.edu/pathways.
---
Spread the word.
---