EOU online fire services program ranked among best in 2017
EOU online fire services program ranked among best in 2017
News contact: University Advancement
Phone: 541-962-3740| E-mail: ua@eou.edua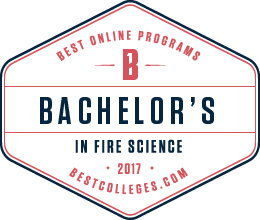 LA GRANDE, Ore.  – A new survey from Best Degree Programs names Eastern Oregon University's online fire science degree as one of the top 30 online fire and emergency services offerings in the country.
EOU's Fire Services Administration (FSA) program landed at No. 16, and remains the only bachelor's degree offering of its kind in Oregon.
The study follows recognition from BestColleges.com on its list of "Best Online Programs: Bachelor's in Fire Science" in 2016 and 2017, as well as a top 10 listing by OnlineU in 2016.
"For prospective students, it helps give confidence that the program is recognized as one of the best FSA programs in the nation. Ergo, they're getting good value for their educational dollar," said department chair Kevin Walker. "Becoming recognized as a Fire and Emergency Services Higher Education (FESHE) compliant program by the National Fire Academy (NFA) this spring will only enhance that sense of value."
The first fire services student graduated from EOU in 1981, with a body of alumni that has expanded to more than 360. Between 2010 and 2016 the number of Fire Services Administration graduates doubled, and 140 of them currently work in fire departments and government agencies around the US.
Instructors bring first-hand experience to the classroom, with many current or former fire chief officers among them. Classes are available entirely online or through a hybrid mix, and cover diverse aspects of management. Course material ranges from building construction for fire prevention, fire behavior and combustion, emergency services delivery, fiscal management in fire protection and more.
The curriculum follows the National Fire Academy's Fire and Emergency Services Higher Education model and addresses the requisite knowledge and skills outlined in the organization's Standard for Fire Officer Professional Qualifications (2014).
Learn more about fire services administration at EOU by visiting eou.edu/fire-services-administration and other online degree offerings at eou.edu/online.
---
Spread the word.
---