Gresham center, MHCC host open house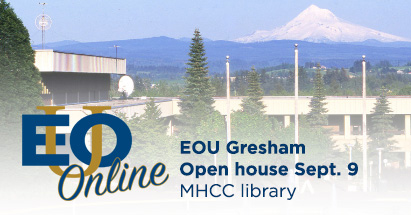 MHCC and EOU strengthen ties through open house
Contact: Andrea Williams, EOU Gresham Center Director | 503-491-7428
LA GRANDE, Ore. − Eastern Oregon University's regional center in Gresham hopes to reach local businesses and on-campus groups through an open house Sept. 9 at Mount Hood Community College (MHCC) library.
Area employers are invited to attend and explore the variety of courses available through the college-university partnership. EOU offers bachelor's degree programs in business administration, fire services administration, and education through the Gresham center. The university's fully accredited online degrees and MBA program are also open to students at MHCC. Small business owners seeking professional development or looking to enrich their workforce will find an extended list of options at the event.
"We're excited to get the word out about the great programs EOU offers in Gresham," Center Director Andrea Williams said. "Local employers can support their workers by connecting them with educational opportunities right here at MHCC."
The open house also marks a change in the agreement between educational entities as EOU and MHCC continue to develop smooth the pathways for students who want to complete associate's and bachelor's degrees on the same campus. Eastern's presence in Gresham during the last 13 years has often escaped notice, but this event welcomes MHCC employees, local businesses, and other community members to learn more about the growing partnership.
Both institutions are co-hosting the event, which will include information for a number of study programs, scholarship opportunities, and student services. The event provides opportunity to network with potential employers and connect with fellow students attending MHCC at the event from 10:30 a.m. to 2:30 p.m., Saturday, Sept. 9 on the mezzanine level of the MHCC library.
Visit eou.edu/eougresham to learn more about degree programs, or contact Andrea Williams at apwilliams@eou.edu.  
---
Spread the word.
---