EOU board of trustees meeting highlights plans for EOU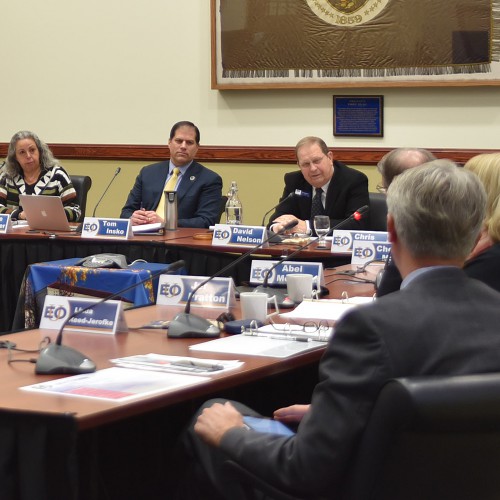 EOU Board of Trustees discuss strategic plan, online program management and outreach efforts
Feb. 6, 2018 La Grande, Ore. — Eastern Oregon University's Board of Trustees explored a comprehensive agenda at their first meeting of the year on Feb. 1 in La Grande with agenda items ranging from online program management and academic partnerships to rural engagement and a robust financial picture for the institution.
During the morning session, the Board received updates from President Tom Insko, heard public input, reviewed and discussed the institution's strategic plan implementation and annual report, then explored online program management strategies that the university is considering to help fulfill key components of the plan, including online enrollment growth.
David Vande Pol, executive director for Regional Outreach and Innovation at EOU, and Sarah Witte, provost and senior vice president for academic affairs, briefed the Board on research completed to date. Reviews of online program management (OPM) companies and subsequent research and discussions with deans and university leadership have led to the recommendation that EOU evaluate an association with an OPM. An in-depth analysis over the next several months will take place with Pearson Online Learning Services, an industry leader in this field.
During lunch, the Board received a legislative update on key bills and policy items for the upcoming Oregon legislative session, including a proposal to have EOU designated as Oregon's Rural University. EOU is also pursuing funding for a new fieldhouse facility that will house academic and co-curricular programs and expand wellness and activity programs for students, the community and region. The new facility has the support of Governor Brown and is proposed along with projects at University of Oregon and Oregon State University, all of which are planning to utilize engineered wood products produced in Oregon.
In the afternoon session, Peter Geissinger, dean of the college of science, technology, math and health sciences, highlighted the Greater Oregon Science, Technology, Engineering and Math (GO-STEM) Hub program's work. This regional collaboration represents 37 school districts, 101 schools, four higher education institutions, and a variety of industry partners and community organizations to help prepare students for careers and education in STEM-related fields. The current Oregon Department of Education grants provide over $400,000 for base funding, program support, resources for teacher training and an interhub communication and outreach project to extend the reach of GO-STEM in eastern Oregon.
Dan Mielke, dean of the colleges of business and education, and Tawnya Lubbes, assistant professor of education, reviewed the success of EOU's Oregon Teacher Pathway (OTP) grant. The program focuses on recruiting and training pre-service teachers of color and pre-service teachers interested in becoming culturally responsive teachers. OTP currently has 26 students enrolled at EOU and another 82 students participating at the high school level. Expansion of the OTP includes conversations with partners on how to create a route from community colleges to education degree completion at EOU.
Mielke also presented an update on Eastern Promise, which has become a state model for early college experience. Although no longer supported by the state, Mielke notes that the program continues its commitment to the region through a collaboration with Blue Mountain Community College, EOU, Treasure Valley Community College and the InterMountain Education Service District and many schools in the region.
Following the discussion on institutional grants, the Board heard about the Rural Engagement and Vitality (REV) Center, a project that expands on past efforts at EOU. Tim Seydel, vice president for university advancement, presented how the Center establishes a platform to connect with public and private organizations and businesses to create internships and opportunities for students. In discussion with trustees, Seydel also pointed out that the REV Center supports workforce development as well as public policy and applied research.
EOU's shared governance leaders spoke with the Board on activities and events at the university in the afternoon. Topics brought forward by student government, the University Council and the Faculty Senate included the student Lobby Day in Salem on Feb. 15, policy reviews, a forthcoming recommendation to consider renaming Pierce Library and comments regarding online program management review.
In closing actions, the Board approved an educator equity plan and an online sociology/social welfare concentration. The second quarter management report outlined EOU's strong fund balance and financial position, and trustees noted the significance of this factor as a critical component of the university's success and viability.
For complete agenda and meeting materials, visit eou.edu/governance and click on "Board Meeting Schedule." Video of the full meeting is available at livestream.com/eou/governance.
---
Spread the word.
---