EOU adds baseball, lacrosse to athletic offerings
EOU restores baseball and adds lacrosse to athletic programs
Oct. 12, 2019 LA GRANDE, Ore. – After a 13-year hiatus, Eastern Oregon University's legendary baseball program is returning to campus, along with a brand-new women's lacrosse program.
EOU President Tom Insko announced the additions to the university's athletic portfolio at the Homecoming Alumni Breakfast on Oct. 12. Alumni, students and friends of the university were in attendance to celebrate the news.
"We are excited to join a growing number of peer institutions in adding women's lacrosse, and to renew the legacy of EOU baseball," Insko said. "Expanding our athletic offerings is one way we can impact more lives and increase the vitality of our campus environment."
EOU lobbied with Oregon's other regional universities for additional Sports Lottery funding from the state legislature to support student-athletes in the 2019-21 biennium. The funding is dedicated to support increased athletic scholarships, graduate assistantships and athletic programs.
"When I advocated for increased funding, I described how Eastern would invest this money in the addition of sports that will ultimately pay their way and provide a reliable increase in student enrollment," Insko said. "In other words, we would leverage this investment to strengthen EOU's base through steady enrollment growth."
EOU anticipates the programs will add at least 60 to 70 additional students to the on-campus population, beginning next fall with about 40. The number is expected to grow as student-athletes draw friends, family members and teammates to campus.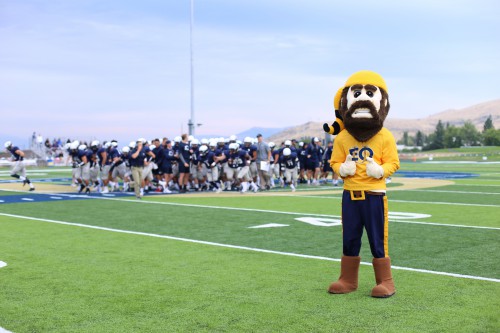 EOU baseball has a long and storied history with teams starting in the 1930s just after the school was founded. Due to budget reductions, the program was cut in 2006. Insko said with the restoration of baseball the university foresees building facilities on campus, but that the team will use existing local fields until private funds can be raised.
Lacrosse, one of the country's fastest growing high school sports, will make use of Community Stadium for its games in the spring. An emerging sport in the West, several institutions in the Cascade Collegiate Conference have lacrosse club teams and are considering adding the sport.
"We're excited to add two sports to our spring season when we have capacity in our facilities and administrative resources," EOU Athletic Director AnjiWeissenfluh said. "Additionally, we expect to draw a wide diversity of lacrosse student-athletes from urban centers across the country, while tapping into our region's strong affinity for baseball."
The announcement capitalizes on a number of campus facility upgrades over the past several years. In 2017, EOU announced major updates to Loso Hall, its main visual and performing arts building, and funding for a new Fieldhouse in 2018. The university has also updated IT infrastructure and classrooms in Ackerman Hall, and has plans for major updates to Inlow Hall as leaders continue to identify funding resources to repair the historic Grand Staircase.
Insko thanked alumni and former student-athletes, as well as Weissenfluh, EOU staff and the students and trustees who traveled to the state capitol last spring to meet with legislators.
"At the end of the day, there is a real value to legislators increasing long-term state investment in higher education," Insko said. "Alongside stakeholders and partners, we are embracing our role as Oregon's Rural University and the economic, cultural and educational engine of this region."