Community – and cooking – matters
Cooking class provides practical skills for EOU students
Dec. 7, 2017 La Grande, Ore. — Cutting boards, pasta pots and colorful vegetables piled high on Tuesday evenings last term as 14 Eastern Oregon University students learned the ins and outs of cooking basics.
Jennifer Puentes, a sociology professor at EOU, brings her interest in food and food security into the classroom. She partnered with the Oregon Food Bank, Oregon State University Extension Service and Oregon Rural Action to coordinate a FEAST event in April 2017, where community members identified needs and proposed solutions.
"We noticed that our community needs greater education about nutrition, cooking and different types of food," Puentes said.
Cooking Matters, a food and nutrition education program from Share Our Strength, lays out a six-week cooking curriculum that includes kitchen safety, nutrition information and smart shopping tips. Puentes worked with Robin Maille from the Oregon State University Union County Extension office to bring the program to EOU.
Maille, who coordinates Family and Community Health and SNAP-Education programs, said a coalition of organizations made it possible for EOU students to benefit from the free classes. The program cultivated educational partnerships with the Oregon Food Bank, which provided curriculum and grant funds; First Presbyterian Church in La Grande, which provided funds to purchase ingredients and cover expenses; and K-House, which shared its kitchen and dining space.
Maille said student participants gained valuable knowledge and experience.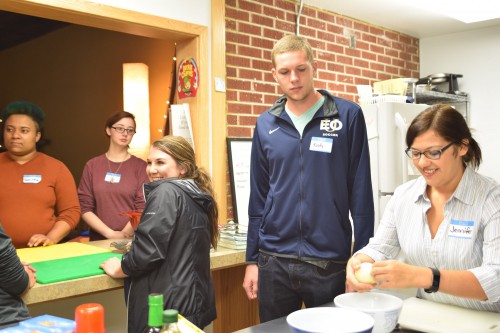 "The program helps people become more food secure by building cooking skills, helping create a food budget, and learning about healthy eating," she said. "College students are often food insecure, and they need to be well-nourished in order to study and perform the way they're expected to."
Each week starting in the middle of October, students gathered for a few hours in the evening for a hands-on lesson. The menu ranged from roasted vegetables, to fried rice, to pizza and beyond. Puentes said the easy-to-follow Cooking Matters curriculum put students at ease in the kitchen.
"The program makes these skills relatable," she said. "It makes them easy to understand and shows that they don't take a lot of time."
Lessons covered knife skills, the science of nutrition labels, benefits of buying in bulk and the subtle art of creating a balanced meal from seemingly disparate ingredients. After practicing — and enjoying — a recipe together, each student took home a grocery bag packed with items to prepare it at home.
Weekly classes fostered an inviting and supportive atmosphere, while promoting rural community prosperity.The first six-week run offered classes for EOU students, but Maille already has her sights set on a second session for SNAP eligible families in 2018. Volunteer leaders got to know students throughout the course, and Puentes said these relationships are an added perk.
"It's a great way to get students involved in the community, and to see the community supporting students in a very tangible way," she said.
Hannah Brandsma, a senior studying sociology and social welfare at EOU, helped set up and coordinate the classes.
"I love cooking and helping others learn how to cook," she said. "It can save someone a lot of money and it's important to know what goes into the food that we eat."
Brandsma, a John Day native, plans to incorporate her Cooking Matters experience into her capstone project. Brandsma's fellow sociology students Lewis Whiting and Amy Hickey enrolled in the class this fall, and agreed that the collegiate search for thrifty techniques and tasty eats motivated them to up their cooking skills.
Whiting, a senior from Crane, Ore., said he signed up in hopes of diversifying his culinary repertoire.
"I have learned that cooking can be super simple," he said. "I just want to continue cooking and experimenting."
Hickey, a junior from La Grande, said the prospect of healthy eating on a budget drew her to the class.
"Cooking makes the college experience better because with a healthy diet, I have more energy to do more things," she said. "The best part of the program is the community it creates, I have such a fun time making food and getting to know more people."
Whiting echoed her feeling that a thriving university community was at the center of every class, and said he went home excited to share a meal with family and friends. Puentes said these bonds inspire young people not only to cook together, but to engage in conversation around the table.
"We hope they're walking away thinking about food through community, and how those support each other," Puentes said. "When we cook and eat together, we can have difficult discussions and bring different perspectives together."
Learn more about sociology and social welfare programs at EOU by visiting eou.edu/anthropology-sociology or contact Jennifer Puentes at jpuentes@eou.edu.
---
Spread the word.
---