A closer look at bird behavior, Jan. 23
Take a closer look at bird behavior with biology professor
News contact: Laura Hancock | University Advancement
541-962-3585 | lhancock@eou.edu
January 22, 2014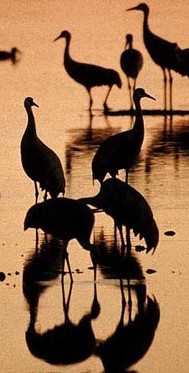 LA GRANDE, Ore. (EOU) – Laura Mahrt, Ph.D., associate professor of biology, shares her research into bird behavior for the colloquium this Thursday at EOU.
"Mixed Foraging Flock Behavior of Birds in Southern India" begins at 4 p.m. in Ackerman Hall, Room 210. A reception with question and answer session will follow.
Mahrt's study of mixed flocks of foraging birds documented throughout the world reveals the purpose of this behavior is to either improve feeding efficiency or provide better protection from predators.
Mahrt finds two kinds of flock participants are recognized: those that join other species ("followers") and are therefore more likely to be the recipients of the benefits of flock participation, and those that are joined ("leaders").
A list of related resources provided by Pierce Library is available for more in-depth information on this topic. Visit http://library.eou.edu/colloquium. To be added to the colloquium mailing list call 541-962-3555.
---
Spread the word.
---