Class of 2017 celebrates achievements during commencement week
Class of 2017 celebrates achievements during commencement week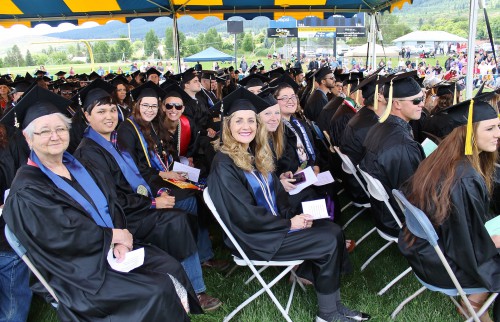 News contact: University Advancement
Phone: 541-962-3740| E-mail: ua@eou.edu
Source contact: Registrar's Office
Phone: 541-962-3607| E-mail: registrar@eou.edu
LA GRANDE, Ore. – Approximately 443 students will participate in Eastern Oregon University's formal Commencement Ceremony Saturday, June 17. The outdoor event begins at 10 a.m. at Community Stadium in La Grande and will also be available to view at livestream.com/eou.
The 2017 EOU President's Scholar, Charlotte Bowers, will address her peers and receive her bachelor's of science in history at the ceremony. Alumnus David Panuelo, a congressman from the Federated States of Micronesia, will give the keynote address.
Performing the National Anthem is McKayla Nitz, of Helix, Oregon, earning a bachelor's of music and theatre. Kelsey Hafen, of Caldwell, Idaho, will sing the Alma Mater. She is completing her bachelor's of music.
No tickets are necessary to attend and seating is available on a first-come, first-served basis. Free parking is available for the day in all campus lots, excluding reserved spaces. Guests are encouraged to arrive early and bring sunscreen, water and a hat or umbrella.
EOU expects to confer an estimated 713 bachelor's degrees, 115 master's degrees, three associate's degrees and 12 certificates at the close of its 2016-17 academic year.
The weekend includes additional events throughout the day on Friday, June 16. Oregon Health & Science University's School of Nursing Convocation and Awards Ceremony will honor nursing graduates at 10 a.m. Friday, June 16 in McKenzie Theatre in Loso Hall.
EOU's annual Student Awards Assembly will be held at 1:30 that afternoon, also in McKenzie Theatre, with a reception to follow in the Loso lobby. And a celebration for off-campus graduates and their families will take place at 5 p.m. Friday evening in the Gilbert Center adjacent to Ackerman Hall.
Guests requiring special seating accommodations for the ceremony should contact the Registrar's Office at 541-962-3607 or registrar@eou.edu. Additional details and schedules are available at www.eou.edu/commencement.
Prepare for the world beyond college with Eastern Oregon University's high-quality liberal arts and professional programs. Classes are available when and where you need them – at our main campus in La Grande, online almost anywhere in the world or onsite at our centers across the state. Educational, cultural and economic growth is important to our region, state and nation. That's why we are committed to providing a personal, student-centered experience in all that we do. Visit www.eou.edu.
Friday, June 9th
4:00 pm – Multicultural/International Graduation Celebration – Hoke Main Lounge, Hoke 2nd Floor
Thursday, June 15th4:00 pm – Sigma Theta Tau Induction Ceremony – Loso Hall Foyer (EOU campus)This is an event to honor the students who are being inducted into Sigma Theta Tau International (Nursing Honor Society). Family and friends are cordially invited to attend this special celebration.
Friday, June 16th8:30 am
– Commencement Rehearsal – Quinn Coliseum
9:00 am
– Honor Society of Phi Kappa Phi Induction Ceremony & Reception – Hoke 339
10:00 am – OHSU 34th Annual Convocation & Awards Ceremony – McKenzie Theatre (EOU Campus)
Academic achievements of students, recipients of particular awards and nursing pins are presented during this event. A reception, hosted by the OHSU School of Nursing faculty and staff, will follow the convocation. Family and friends are cordially invited to attend this special celebration.
1:30 pm – EOU Student Awards Assembly – McKenzie Theatre in Loso Hall. Reception follows in Lobby.
5:00pm – 7:00pm – Off Campus Graduation Celebration – David E. Gilbert Center (Adjacent to Ackerman Hall)
Information and RSVP Sign Up – 2016 Off Campus Graduation CelebrationQuestions? EOU Advising (advisor@eou.edu or 541-962-3607)
Saturday, June 17th
8:00 am – Commencement Check-in and Continental Breakfast – Quinn Coliseum
9:00 am – Teaching and Administrative Professionals Continental Breakfast (9:30 line-up) – New Practice Gym (Old Pool)
10:00 am – Commencement Ceremony – Community Stadium
---
Spread the word.
---