Chemistry Club wins Outstanding Award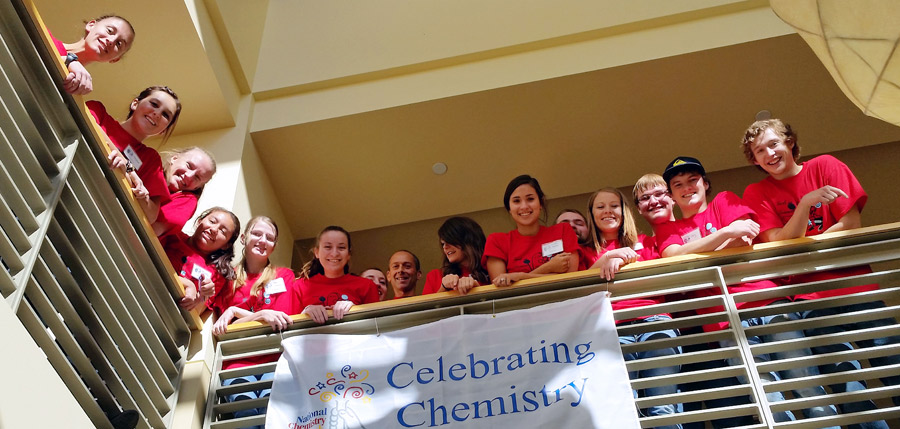 American Chemical Society presents EOU's student chapter with highest honor
News contact: Laura Hancock | University Advancement; 541-962-3585 or lhancock@eou.edu
December 2, 2014
LA GRANDE, Ore. (EOU)  The American Chemical Society has recognized Eastern Oregon University's student chapter with an Outstanding Award for activities during the 2013-14 academic year.
Members of EOU's chapter, known informally as the Chemistry Club, will travel to Denver, Colo. to receive the award at the 249th ACS National Meeting and Exposition, March 22-26.
EOU is among just 44 other chapters receiving this top honor. Awards are designated based on a review of activity reports and over 400 were submitted from across the nation.
"Our students deserve kudos for all their hard work," said Anna Cavinato, chemistry professor and club advisor. "We are also very grateful to the ACS Richland Section for their continued support of our community outreach events including Girls in Science and Saturday Science, and for helping fund our trip to the national meeting."
Cavinato also received special commendation from ACS for her ongoing and steadfast involvement.
"Few faculty members are willing to make the great commitment of time and energy that a successful chapter requires," stated Tom Barton, ACS president, in a letter to EOU announcing the award. "Professor Cavinato's efforts certainly represent the best in undergraduate science education and mentoring around the country."
The award recognizes outstanding performance by the club in multiple categories including outreach events involving over 1,000 K-12 students; professional engagement through attendance at the national meeting of the ACS in Dallas, Texas, where students presented research posters and participated in other networking activities; and campus involvement.
The group also received EOU's Outstanding Club Award for these efforts.
---
Spread the word.
---