Board reviews potential online partnership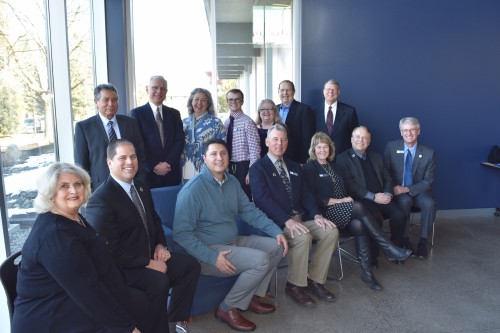 Board discusses online partnership at special meeting
March 15, 2019 LA GRANDE, Ore. – The Eastern Oregon University Board of Trustees convened Wednesday in a special meeting to discuss a potential partnership between EOU and Learning House. Holly Chason, an EOU staff member who is coordinating the evaluation, updated trustees on her team's progress in outlining operational procedures, enrollment and financial outcomes, and contracting.
To assist with achieving online enrollment targets outlined in EOU's strategic plan, Ascent 2029, the institution is evaluating a potential public-private partnership to expand its online enrollments. A cross-functional team of faculty and staff worked last fall to identify a best-fit partner. In January, the team made a unanimous recommendation to explore a potential partnership with Learning House.
Trustees considered opportunities around engaging the company's services to enrich marketing, recruitment and retention efforts at EOU. The partnership would include a revenue share, in which Learning House would receive a portion of revenue from new students entering the university's online programs.
A contract review team has been assembled, and includes representatives from EOU's online and regional centers staff, faculty, the university's legal counsel, finance and administration and institutional effectiveness staff. The team has completed its first review and is awaiting modifications from Learning House.
Linda Reed-Jerofke, an anthropology professor and member of the committee, explained to trustees that the partnership will not encroach upon course content. She pointed to a survey the group conducted last fall of more than 200 employees that expressed interest in keeping the partnership focused on marketing and recruitment resources.
"This partnership gives a small, regional university access to new and emerging developments in higher education," EOU President Tom Insko said.
Insko also highlighted the advantage of tapping into Learning House's resources to remain competitive with peer institutions. He pointed to universities nationwide funneling millions of dollars into online program development and expansion.
"I believe there is a demographic of people we can serve, but we must stand out in the online market," Insko said.
Next steps in the process include additional contract review and ultimately a recommendation this spring to the President and Board of Trustees on whether or not to enter into a formal partnership with Learning House.
---
Spread the word.
---