Board approves 2019-20 tuition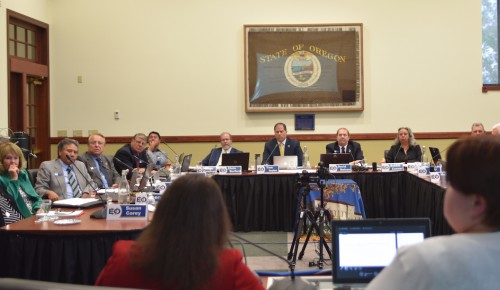 Board approves tuition for 2019-20 at spring meeting
May 23, 2019 LA GRANDE, Ore. – The Eastern Oregon University Board of Trustees gathered for its final regular meeting of the 2018-19 academic year on May 23.
After months of planning and discussions with students and stakeholders, the board approved a 4.9 percent increase across all tuition categories for next year. Though trustees expressed reluctance for the increase citing student access and affordability, EOU remains the most cost-effective public university in the state, and only two institutions held tuition at a lower percent increase.
The 4.9 percent change will be applied to on-campus resident and non-resident tuition, as well as online rates. Moderate student fee increases, along with the tuition change mean that an Oregon resident taking 15 credits on-campus next fall will spend about $120 more on tuition and fees than they did this term.
"We are truly concerned about cost of attendance at EOU," said Vice President of Finance and Administration Lara Moore. "In a challenging state funding environment, and given that 52 percent of our incoming class last fall was low income, we have been committed to staying below a 5 percent increase to ensure student access."
Balancing EOU's commitment to low tuition while providing critical student services has been crucial as state funding for higher education still hangs in the balance. Finance and Administration Committee chair Richard Chaves presented room and board rates and a preliminary operating budget, both reflecting the impact of uncertain state funding. Resident students living on campus will see about a 3.7 percent increase in total costs, coming to about $681, with room, board, tuition and fees factored in.
Tim Seydel, Vice President for University Advancement, highlighted EOU's current and ongoing efforts at the state capitol to augment state investment in Oregon's public universities. The state's revenue forecast provides legislators with an opportunity to add critical funding needed to maintain affordable tuition levels now and for the future. Insko emphasized a focus on collaboration and lasting solutions.
"At the end of day, there is a real value to legislators increasing long-term state investment in higher education. We are leading conversations and have seen real support from leaders in the capital," President Insko said.
The institution's future could also include a proposed Sustainable Rural Systems degree, which would offer an interdisciplinary, project-based bachelor's program that equips students with real-world skills and community sensibilities.
Dean of the College of Science, Technology, Mathematics and Health Sciences Peter Geissinger presented the new academic program that is under development. Trustees heard from faculty members, regional education partners and Provost Sarah Witte on how the program leverages high school and post-secondary student work to resolve community land use issues.
"Planning for this degree has its roots in the strategic plan and in EOU's role as Oregon's Rural University," said Geissinger.
Also in the realm of academics, Associate Professor of Health and Human Performance Kyle Pfaffenbach showcased student research he's supervised in exercise science. Students Kiley McMurtrey and Sarah Carpenter presented their research that tested the effectiveness of health newsletters in a HeadStart facility. This project is one of many that have launched graduates to successfully pursue further study and professional careers.
As graduation approaches, trustees turned their attention to completion rates for the institution. EOU's strategic plan focuses on four-year completion rates and transfer completion. Vice President for Student Affairs Lacy Karpilo returned for the final installment of her presentations regarding strategic enrollment management. She said similar strategies are used to ensure both retention and completion.
Leaders from shared governance groups also reported out for the last time this year. Meeting materials and complete minutes are available at eou.edu/governance/board-meeting-schedule.
---
Spread the word.
---