45th annual Indian Arts Festival & Powwow
EOU hosts 45th annual Indian Arts Festival, Powwow & Friendship Feast
News contact: Laura Hancock | University Advancement
541-962-3585 | 
lhancock@eou.edu
April 21, 2015
LA GRANDE, Ore. (EOU) – The annual Indian Arts Festival and Powwow at Eastern Oregon University marks its 45th anniversary in May.
Grand Entries are at 7 p.m. Friday, May 15 and 1 and 7 p.m. Saturday, May 16 in Quinn Coliseum. Admission is free.
A Friendship Feast, Speel-Ya Run and donation raffle are also part of the gathering. All activities are family-friendly and open to the public.
"This is such an important event because it celebrates diversity by bringing Native American culture and traditions to our community and the EOU campus," said Shoshoni Walker, coordinator of Rural and Native American Programs at the university. "Everyone is welcome to participate in this amazing, fun-filled, two-day event."
Saturday kicks-off with the half-marathon at 8 a.m. and 5K/10K run at 9 a.m. Registration is at 7:30 for the half-marathon and from 8-9 for the 5K/10K.
Runners should meet at the west end of Dorion Park on 6th Street near the EOU tennis courts. The cost is $5 for students and $10 for adults.
The Friendship Feast precedes the Grand Entry on Saturday evening with food served in the Auxiliary Gym in Quinn beginning at 5 p.m.
Arts and crafts vendors will be set up both days with a variety of wares including American Indian style flutes, and beaded and wire-wrapped jewelry. Vendors can register at www.eou.edu/powwow/vendor-registration.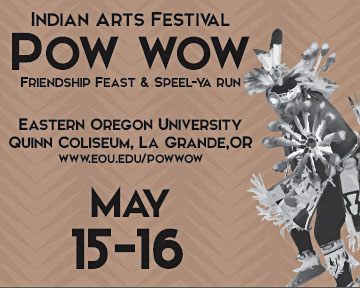 In addition to the regular lineup of social and competitive dancing will be Men's Slick Style, Women's Short Fringe and Traditional, along with a hand drum contest offering opportunities for participants to earn extra cash prizes. There is no dancer fee.
Serving as Host Drum this year is Chute #8, from Granger, Wash. Thomas Morning Owl is the Master of Ceremonies, representing the Confederated Tribes of the Umatilla Indian Reservation.
Speel-Ya Native American Student Council, Associated Students of EOU, Wildhorse Foundation and many in-kind donations support the event.
For more information visit www.eou.edu/powwow or reach Walker at 541-962-3588 or walkerss@eou.edu.
---
Spread the word.
---