Registration still open for Student Writers' Workshop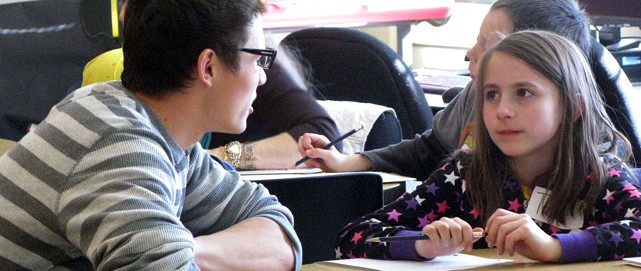 EOU photos by Nancy Knowles / Students and teachers working one-on-one during the 2013 workshop. 

Still time to register for Student Writers' Workshop Mar. 8
Contact: Nancy Knowles | Director, Oregon Writing Project at EOU
541-962-3795 | 
nknowles@eou.edu
March 3, 2014
LA GRANDE, Ore. (EOU) – Writers in grades three through 12 are invited to register for the annual Student Writers' Workshop at Eastern Oregon University Saturday, Mar. 8.
Hosted by the Oregon Writing Project at EOU, the workshop is a conference for young writers where students, teachers and parents participate in a selection of workshops and produce various kinds of writing.
At the end of the day, participant writing is celebrated in an open mic session and writers can revise and submit their work for inclusion in an anthology.
A $30 registration fee includes the opening session, workshops, lunch in the EOU dining hall and the anthology. Teachers and chaperones attend for free. Continuing professional development units are available.
Since 1992, the workshop has served approximately 2,900 students, providing them with the opportunity to build on their enthusiasm for creative writing, work alongside students and teachers for whom writing is a passion, and learn to see themselves as published writers through contributing to the anthology. Participants also benefit from visiting EOU's campus and picturing themselves as potential college students.
Winners of the Eastern Oregon Youth Writing Contest will be recognized during the event. They are: Allie Miller, Jarom Huntsman, Sam McCracken, Marquelle Barfuss, Elise Wettach, Hailey Hanson, Isabelle Sauers, Sebastian Hobbs, Cynthia Cramlet, Delaney Wood, LeeAnna Blackman, Shawnee Lassley and Tylee Cagley.
George Venn, EOU emeritus professor and author of "Keeping the Swarm" (2012), judged the contest this year.
Support for the Student Writers' Workshop comes from EOU, Soroptimist International of La Grande and the Wildhorse Foundation.
For more information and to register, visit www.eou.edu/owp or contact Nancy Knowles, OWP director, at 541-962-3795 or at nknowles@eou.edu.
About The Oregon Writing Project
The Oregon Writing Project, affiliated with the National Writing Project, provides professional development for teachers in Eastern and Central Oregon through summer institutes, inservice, and continuity programs and shares its mission to improve the teaching of writing and improve learning in the nation's schools. In 16 studies conducted in seven states, the writing of students taught by NWP teachers scored consistently higher than that of other students.
---
Spread the word.
---