Drumline Ensemble
EOU Drumline Ensemble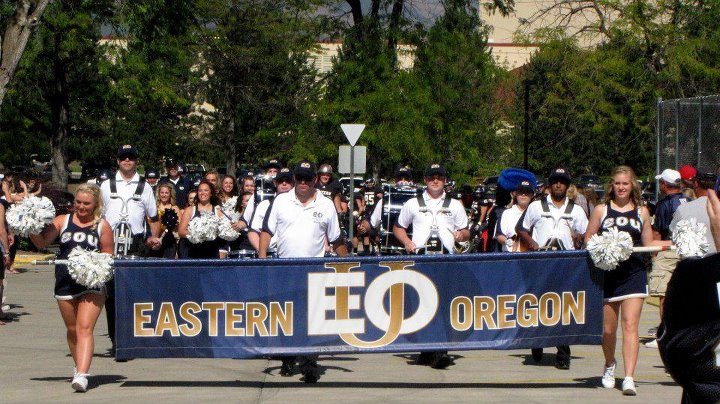 MUS 195/395 "EOU Drumline," is a small ensemble course.
Normal Fall and Winter term rehearsal times:
Tuesday, Thursday, and Friday 4-5:30
All drumline students must register for 2 credits of MUS 195 or MUS 395 "EOU Drumline."
Scholarships Available
EOU Drumline scholarships available for registered EOU students.  Recipients must maintain a 2.5 GPA and be enrolled in at least 15 credits.  These are tuition and fee remissions that are awarded yearly. Contact EOU Admissions for more information. admissions@eou.edu
Drumline Rehearsals
Drumline auditions and mini camp will take place in September during orientation week.  Sept 22-26
All rehearsals will be outside near community stadium or by the tennis courts unless it's bad weather. We will rehearse in Quinn 109 after 7 pm if weather is bad.
Audition and Mini Camp times:
Monday, September 22: 9:30 a.m. until 12:30 p.m.
Tuesday, September 23: 9:30 a.m. until 12:30 p.m.
Wednesday, September 24: 9:30 a.m. until 12:30 p.m.
Thursday, September 25: 9:30 a.m. until 12:30 p.m.
Friday, September 26: 9:30 a.m. until 12:30 p.m.
Interested students should meet in Quinn Coliseum room 103 for the initial meeting and then the playing will be outside near Community Stadium, weather pending. Auditions will be held the first day of camp and late arriving students may audition as space in the line is available.
Please contact Dr. Teun Fetz, Director of the Drumline for audition excerpt requirements and other information. tfetz@eou.edu or 541-962-3105.
Membership to the drumline is by audition only.
Only capable selected musicians will be members. The instrumentation will include marching snare drums, tenors/quints, tuned bass drums, and marching cymbals. Brand new Yamaha drums, carriers, stadium hardware, and Sabian cymbals have been purchased for this ensemble with the help of various university accounts. The music will mostly be cadences and "stands-grooves" with drum solo features mixed in. Before the football game starts the drumline will perform a public warm-up, and march to the stadium. During the game the drumline will play during stoppage of play and perform on the field at halftime. Through participation and performance, each member will develop a sense of pride in the group and in him or herself. It is the mission to expose the members to positive values that will be used later in life. Self-discipline, respect for Dr. Fetz and each member of the drumline and a sense of pride will be asked of the members.
Any student with previous marching percussion experience is encouraged to audition and help this exciting new ensemble establish excellence. Membership in the EOU Drumline is based on attitude, attendance, ability, and improvement. Audition exercises will include the use of legato strokes, accent and tap differential and timing, 16th note and triplet based open rudimental rolls, and flam rudiments, while focusing on quality of sound, rhythmic consistency, and accurate counting.
The EOU Drumline is looking to distinguish itself and create a new tradition with consistent excellence and having fun. The EOU Drumline instrumentation could vary from year to year. The current line has openings for 4 snares, 2 tenors, 5 basses, and 3 cymbals. The course instructor is Associate Professor of Music and Director of Percussion Studies Dr. Teun Fetz. Teun marched 4 years with the University of Oregon Marching Band Drumline, and spent one year with Drum Corps International's Dutch Boy Drum and Bugle Corps, from Kitchener/Waterloo, Ontario Canada. Dr. Fetz has worked with and been taught by renowned marching percussion specialists Alan Keown (Yamaha Clinician/Springfield, OR), and Matt Savage (Pearl Corporation/Chapel Hill N.C.) of the University of North Carolina. Fetz has coached high school drumlines across Oregon, Washington, and Michigan, and is a former staff member of the Alan Keown Marching Percussion Camp near Eugene, OR.