Mountaineer Family Network home
Supporting Your Mountaineer
The Mountaineer Family Network is designated to help parents and other family members be informed about matters of importance to EOU students and their families.
MFN Newsletter
Sign-up for the MFN Newsletter
Make a Payment
How You Can Help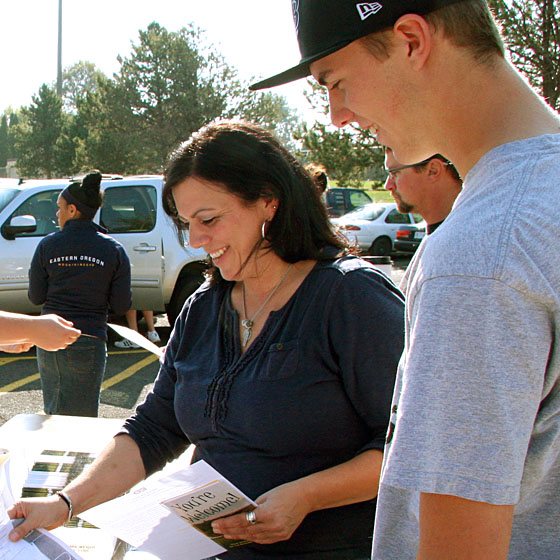 Emergency and Crisis Plan Update
Dear EOU Community,
Each year we share information with you regarding our emergency and crisis plans and the EOU Alert notification system. Following the recent tragedy at Umpqua Community College, it is more important than ever that we remind you of our campus safety resources and the plans we have in place in the event of an emergency.
All of this and additional information is now more easily accessible online at a new website: eou.edu/emergency
This site includes information on the EOU Alert emergency notification system, an emergency preparation FAQ, active shooter protocol, training videos, as well as links for reporting a crime, our inclement weather policy, sexual assault prevention and response program, and environmental disaster planning.
A couple of important items to note:
Our emergency notification system is called EOU Alert. All on-campus students and all university employees will automatically email, text and voice messages we send through EOU Alert.
How EOU Alert works: In the event of an emergency, you receive a combination of text messages, live phone messages and email messages to the phone numbers and campus emergency notification email addresses we have on record. It's a good idea to login to your Webster account and double check this information. Just follow the instructions on the Personal Information Screen. Think about which phone numbers and email addresses you check the most frequently (your cell number and personal email account for example) and add these.
Partner programs and online students can opt-in to EOU Alert. If you are taking classes primarily online and away from campus, or are an employee of one of our partner institutions with an office on campus, you can receive alerts too by completing this form.
It's tough to think about emergencies on our campus, but thanks for your attention and for helping us communicate with you better. If you have questions about EOU Alert, how to opt-in, or about any of the other resources posted at eou.edu/emergency, just give us a call.
Sincerely,
Tim Seydel ​Vice President for University Advancement 541-962-3740 | tseydel@eou.edu
Mountaineer Family Network Newsletter
Catch-up on some of the topics and stories that are affecting your Mountaineer with the Mountaineer Family Network's quarterly newsletter.  In the Winter 2016 Edition, Tucker Brown has a great insight on the "new" student that may be entering your home after their first term on-campus.  Justin Chin brings you his insight on the industry demands and trends from your student as they begin to transition from EOU into the workforce.  Find our newest MFN Newsletter on the side menu.

Mountaineer Days
Welcome to EOU!  Family members are invited to attend one of our Mountaineer Days to meet, explore and connect with EOU faculty, staff, students and service providers.  Students have ave opportunity to complete their placement tests, explore clubs and activities, mingle with future roommates, finalize financial aid and grow into our campus community. Mountaineer Days are a great bridge for families and students to transition from high school to EOU.  We have multiple sessions throughout the spring and summer. Please contact Genesis Meaderds (541) 962-3491 or at   gmeaderds@eou.edu 
Share: