Mountaineer Family Network home
Supporting Your Mountaineer
The Mountaineer Family Network is designated to help parents and other family members be informed about matters of importance to EOU students and their families.
MFN Newsletter
Sign-up for the MFN Newsletter
Make a Payment
How You Can Help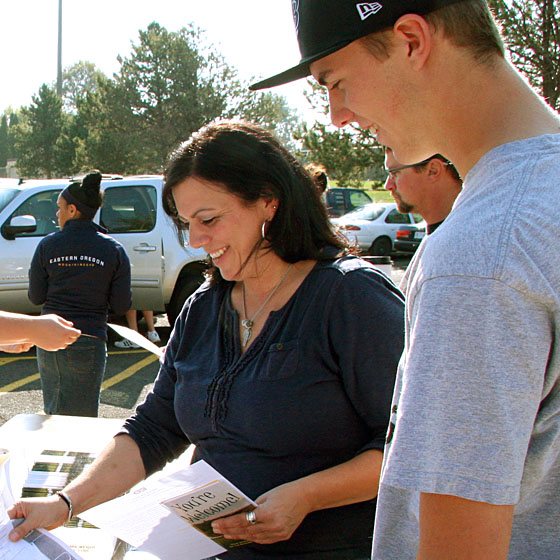 Emergency and Crisis Plan Update
Dear EOU Community,
Each year we share information with you regarding our emergency and crisis plans and the EOU Alert notification system. Following the recent tragedy at Umpqua Community College, it is more important than ever that we remind you of our campus safety resources and the plans we have in place in the event of an emergency.
All of this and additional information is now more easily accessible online at a new website: eou.edu/emergency
This site includes information on the EOU Alert emergency notification system, an emergency preparation FAQ, active shooter protocol, training videos, as well as links for reporting a crime, our inclement weather policy, sexual assault prevention and response program, and environmental disaster planning.
A couple of important items to note:
Our emergency notification system is called EOU Alert. All on-campus students and all university employees will automatically email, text and voice messages we send through EOU Alert.
How EOU Alert works: In the event of an emergency, you receive a combination of text messages, live phone messages and email messages to the phone numbers and campus emergency notification email addresses we have on record. It's a good idea to login to your Webster account and double check this information. Just follow the instructions on the Personal Information Screen. Think about which phone numbers and email addresses you check the most frequently (your cell number and personal email account for example) and add these.
Partner programs and online students can opt-in to EOU Alert. If you are taking classes primarily online and away from campus, or are an employee of one of our partner institutions with an office on campus, you can receive alerts too by completing this form.
It's tough to think about emergencies on our campus, but thanks for your attention and for helping us communicate with you better. If you have questions about EOU Alert, how to opt-in, or about any of the other resources posted at eou.edu/emergency, just give us a call.
Sincerely,
Tim Seydel
​Vice President for University Advancement
541-962-3740 | tseydel@eou.edu
Homecoming 2015–October 15-17
The EOU Alumni Association would like to invite all EOU Alumni, family, and friends to celebrate Homecoming 2015! Festivities kick off Thursday evening with the Choirs of the Valley concert, and continue Friday with the Mountaineer Athletic Association Scholarship Golf Scramble, and Saturday with the big football game vs. University of Montana – Western. Register today using the links provided below to participate in all the Homecoming activities!
See below for the full Homecoming schedule of events, or visit the Homecoming webpage
for more details.  
THURSDAY, OCTOBER 15
7:00 p.m. Choirs of the Valley (McKenzie Theatre, Loso Hall)
FRIDAY, OCTOBER 16
9:30 a.m. Mountaineer Athletic Association Scholarship Golf Scramble (Buffalo Peak Golf Course)
12 – 4 p.m. Homecoming Art Show featuring Alumni Artists (Nightingale Gallery, Loso Hall)
1 – 4 p.m. EOU Ambassadors Campus Tours (Hoke 2nd floor)
4:15 p.m. Parade Registration, line-up at 4:45 p.m. (Max Square, 4th St. & Adams Ave.)
5:00 p.m. Homecoming Parade (Adams Ave., downtown La Grande)
6:30 p.m. Alumni Honors & Athletic Hall of Fame Reception & Ceremony (Gilbert Center)
8:00 p.m. Eastern Student Entertainment presents a Movie on the Lawn (Intramural Field)
SATURDAY, OCTOBER 17
7:30 a.m. Homecoming 5/10K & 1 Mile Run/Walk (EOU campus)
9:00 a.m. Alumni Association Breakfast & Annual Meeting (Gilbert Center)
10:00 a.m. EOU Alumni Softball Fast Pitch Game (Peggy Anderson Field)
10 – 1 p.m. Homecoming Art Show featuring Alumni Artists (Nightingale Gallery, Loso Hall)
10:30 a.m. John J. Howard & Associates Tailgate Zone (6th St. & H Ave. parking lot)
11:00 a.m. Eastern Ambassadors Reunion (Stenard Garden)
1:00 p.m. EOU Football vs. University of Montana – Western (Community Stadium)
4:00 p.m. Alumni Association's 5th Quarter Celebration (Quinn Coliseum Lobby)
6:30 p.m. EOU Women's Basketball vs. Alumni (Quinn Coliseum)
8:00 p.m. Jazz Concert Tribute to Duke Ellington: Faculty Recital (Groth Recital Hall, Loso Hall 126)
9:00 p.m. Eastern Student Entertainment presents comedian Adam Grobowski (Gilbert Center)
Mountaineer Days
Welcome to EOU!  Family members are invited to attend one of our Mountaineer Days to meet, explore and connect with EOU faculty, staff, students and service providers.  Students have ave opportunity to complete their placement tests, explore clubs and activities, mingle with future roommates, finalize financial aid and grow into our campus community.
Mountaineer Days are a great bridge for families and students to transition from high school to EOU.  We have multiple sessions throughout the spring and summer.
Please contact Genesis Meaderds (541) 962-3491 or at   gmeaderds@eou.edu 
Family Weekend
April 15 and 16, 2016
Family members of our students are invited for a new tradition at EOU, Family Weekend. Enjoy activities and experience a slice of campus life!
Please contact Le Bailey at  lalexand@eou.edu
Share: