President's Message
President's Message to International Students
Greetings from Eastern Oregon University!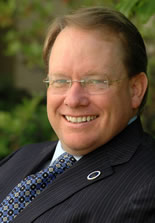 Please allow me to welcome you to our campus and to our community. For many years, EOU has been the university of choice for international students. Our small size, safe environment and scenic beauty makes this a very special place for students from every part of the world.
We pay special attention to each of our students and we will work with you to successfully complete your college education. EOU provides you with a very high quality education at an affordable price.
There are many opportunities for international students to become involved and part of the community. You'll find it's easy to develop an academic program that fits your needs and connect with other students and professors. You can also learn a lot about Western culture and you might even meet a real cowboy or two, attend a rodeo and more!
I look forward to personally meeting you and seeing you at Eastern Oregon University!
Bob Davies, Ph.D.
President
Share: