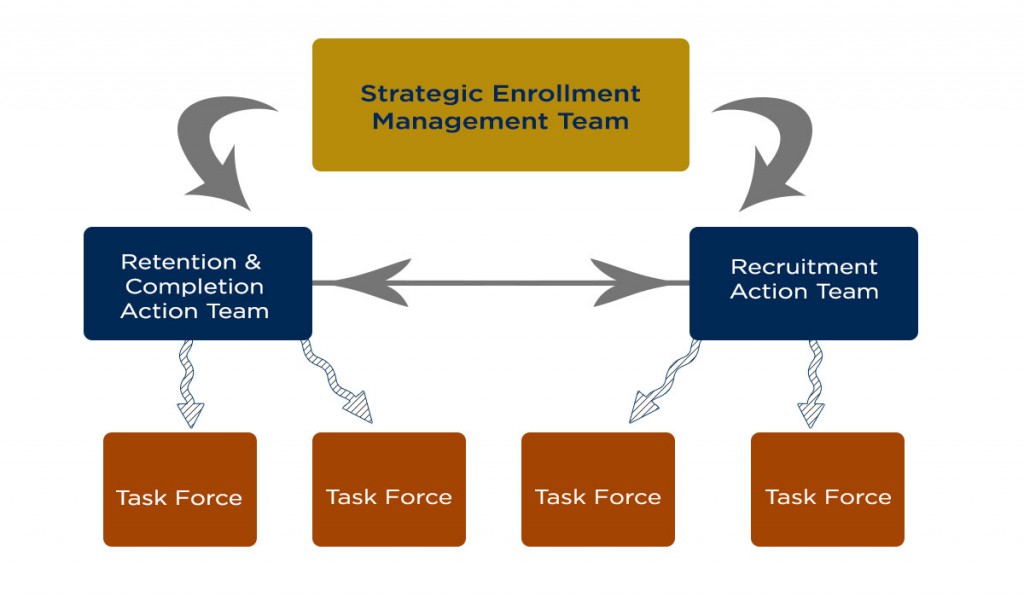 The SEMT serves as the collaborative body charged with delivering on The Ascent, Goal 3: Grow the number of lives impacted – expand student access, opportunity, and completion, addressing the following objectives.
Serve as a growing and thriving rural university
Students are retained
Efficient degree attainment
Strategic enrollment management is the alignment of the institution's strategic planning framework with its collective mission and values with the intent of generating meaningful collaboration to achieve common goals and integrated strategies. It is a complete and coordinated system for student success; a university-wide initiative to identify and achieve enrollment, retention, and completion objectives.
Accreditation Alignment: The work of the SEMT addresses Core Theme 2: EOU is a regional university with a deep sense of commitment to students where they are.
Team Objectives
Position the institution for competitive recruitment and enrollment advantage
Establish and achieve enrollment and retention goals
Recruit and enroll the desired students (based on numbers, quality, socioeconomic diversity, and other characteristics aligned with institutional goals)
Inform tuition setting and fee remission process
Deploying the institution's financial aid resources to achieve enrollment goals while maximizing net-tuition revenue
Coordinate efforts and initiatives to ensure that as many enrolled students as possible persist to graduation
Collaborate in efforts focused on a student's transition to supportive and engaged alumnus or alumn
Deliverables
Develop a consistent and comprehensive data system that informs discussion, action, and reporting
Establish annual enrollment and retention goals consistent with long-term strategic growth initiatives
Coordinate and facilitate action that will ensure annual goals are met or exceeded
Annually, provide enrollment estimate, by modality, for budget and planning by the first working day of February
Annually, provide a comprehensive report on action and plan accomplishments
Documents & Resources
Below you will find links to documents and resources associated with this team.
Founding Team Members
Lacy Karpilo, VP for Student Affairs (lead)
Nate Prouty, Faculty, College of Arts, Humanities, and Social Sciences
Nate Lowe, Dean, College of Arts, Humanities, and Social Sciences
Sandy Henry, Director of Financial Aid
Holly Chason, Director of Institutional Research & Planning
Gina Galaviz-Yap, Director of Admissions
Daysi Bedolla, ASEOU President
David Vande Pol, ED of Regional Outreach & Innovation
Tim Seydel, VP for University Advancement
Stephanie Upshaw, Assistant Director of Athletics
Luke Aldrich, Manager Organizational Transformation/CPM (Facilitator)
Molly Burke, Executive Assistant to VP Student Affairs (Administrative Support)
Have a great idea? Send us your suggestion. We want to hear about it.