Explore EOU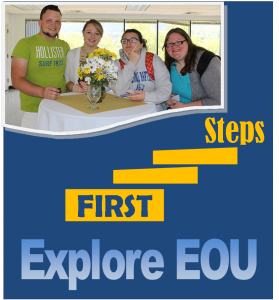 Explore EOU
Each year Eastern Oregon University welcomes hundreds of new students like yourself, from all over the state, country and world. We are thrilled that you have chosen EOU as YOUR path to academic opportunity!
The realities of starting your college education can be a bit overwhelming…Who are all these people emailing me? What do I really need to turn in, still? How do I know what to bring if I'm living on campus? Which classes are held in which buildings? What in the world is Canvas and who is Webster?
For online students, your supports are a quick email, text, phone call or Hangout away. Online advisors will assist you with your academic planning, resources and services, plus answer these questions – and more – throughout your EOU career. Navigating your university experience online is a team-challenge and we're pleased to help!
On campus students get to settle in during Week of Welcome, which fills in the blanks about dining, making friends, campus resources as well as a huge serving of fun and games! College advisors are available to meet with you in person to get academic planning started so that you can clearly see your finish line in the future.
EXPLORE EOU gives you a quick introduction to your first term, and very likely answers to questions you already have. We hope it will both relax AND excite you about your EOU adventure! This is also a great location for parents if they are asking your student questions and they don't have some of the answers.  Take some time to explore feel free to contact us with any questions you may have.
Contact us anytime: Kathleen Brown kbrown@eou.edu or Tressa Seydel tseydel2@eou.edu