Jodi Varon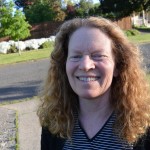 Contact Information
Email: jvaron@eou.edu
Phone: 541-962-3525
Office: Loso 226
---
About Jodi Varon
Dr. Jodi Varon will be on sabbatical 2014-15.
Professor of English and Writing, Dr. Varon has taught at EOU since 1988.  She co-directs the new Low Residency MFA in Creative Writing at EOU and is editor-in-chief of basalt, EOU's professional literary magazine.  She is also a Visiting Professor of American Literature and Culture in the Baden-Württemburg/Oregon State System of Higher Education faculty/student exchange at Ludwigsburg University of Education, Ludwigsburg, Germany.
Professional Credentials
Dr. Varon is the author of Drawing to an Inside Straight: The Legacy of an Absent Father (University of Missouri Press), a WILLA Award finalist from Women Writing the West.  Other awards include a first place award in non-fiction from New Millennium Writing, The William Stafford Fellowship in Non-Fiction from Literary Arts, and two awards to publishers from Literary Arts for Calapooya and basalt.  Her fiction and non-fiction appear in New Letters, The Northwest Review, The Seattle Review, the High Plains Literary Review, WomenArts Quarterly, The Western Humanities Review, the Oregon Encyclopedia, among others.  Also a translator from the Chinese, her translation of the Tang Dynasty poet Li He are collected in The Rock's Cold Breath: Selected Poems of Li He (Ice River Press).
Classes
WR 131 Exploratory Prose
WR 241 Introduction to Fiction
WR 248 Introduction to Non-Fiction
WR 341 Intermediate Fiction
WR 348 Intermediate Non-Fiction
WR 440 Multi-genre Workshop