James Benton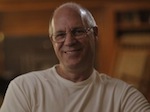 Contact Information
Email: jbenton@eou.edu
Phone: 541-962-3927
Office: Loso 147
---
About Mr. Benton
Before coming to Eastern Oregon University, James Benton worked as a sailor, an electrician, a nuclear engineer, a bill collector, a retail clerk, night janitor, rock musician, bank executive, and private investigator.  He may have glossed over one or two minor enterprises.
Professional Credentials
MFA Creative Writing from Eastern Oregon University, La Grande, 2017
MA Creative Writing from California State University, Sacramento. 2010
BA English/Writing from Eastern Oregon University, La Grande. 2007
Four-time winner, Dominic J. Bazzanella Literary Award
Poetry, fiction, creative non-fiction and book reviews have been published in Oregon East, Calaveras Station, Poetry Now, Convergence: an Online Journal of Poetry and Art, Word Riot, Raintown Review, Ragazine.cc, Concord Vol. 3, Flatmancrooked, The Possibility Place, Mixer, Rattle, and other journals.  He is the author of Sailor, a collection of poetry.
Classes
ENGL 136 Introduction to Literature
ENG 339 Genres: Contemporary American Poetry
WR 121 Expository Prose
WR 122 Argumentative Writing
WR 131 Exploratory Writing
WR 242 Introduction to Poetry
WR 248 Writing in the Genres (Creative nonfiction)
IS 301 Introduction to Integrative Studies (through 2017)
IS 401 Integrative Studies Capstone (through 2017)
What Language is to Me
I have always been fascinated by the power and beauty of language.  From the time my mother secured for me at the age of four a library card, words and sentences in their limitless permutations have behaved like an irresistible gravitational force. Certain passages in great books move me to tears every time and prove that human beings can connect deeply across chasms of time and space.  Fitzgerald, Fernando Pessoa, Harper Lee, Thomas Pynchon, Jorge Luis Borges, even Rex Stout–there really are too many to name–every one a link in the great chain of human creativity and charity (their works are gifts to us).  But that's not all.  From cereal boxes and bad cigar reviews, to training manuals and my grandfather's depression-era diary, nothing printed is off limits.  To read is to live.  Or perhaps I mean to live is to read.