Community
Community
EOU English/Writing Faculty are involved in their community.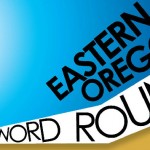 Eastern Oregon Word Round Up  (October 26 & 27, 2012, Wildhorse Resort, Pendleton, OR) includes a book fair, workshops on writing and publishing (in print and online), and opportunities to meet local and state writers and artists who will share the tools and tips of their craft. Admission is free, and it is open to the public.
---
Cove Ascension School and Camp (August, yearly, Cove, OR) Cori Brewster, Associate Professor of English and Writing, directs this summer camp, which includes the Mirrors of Me camp, an opportunity for 9-12 grade girls to create, reflect, and connect with their peers.
See other ways that the English/Writing Department is involved in the EOU campus and communities.