ASTEO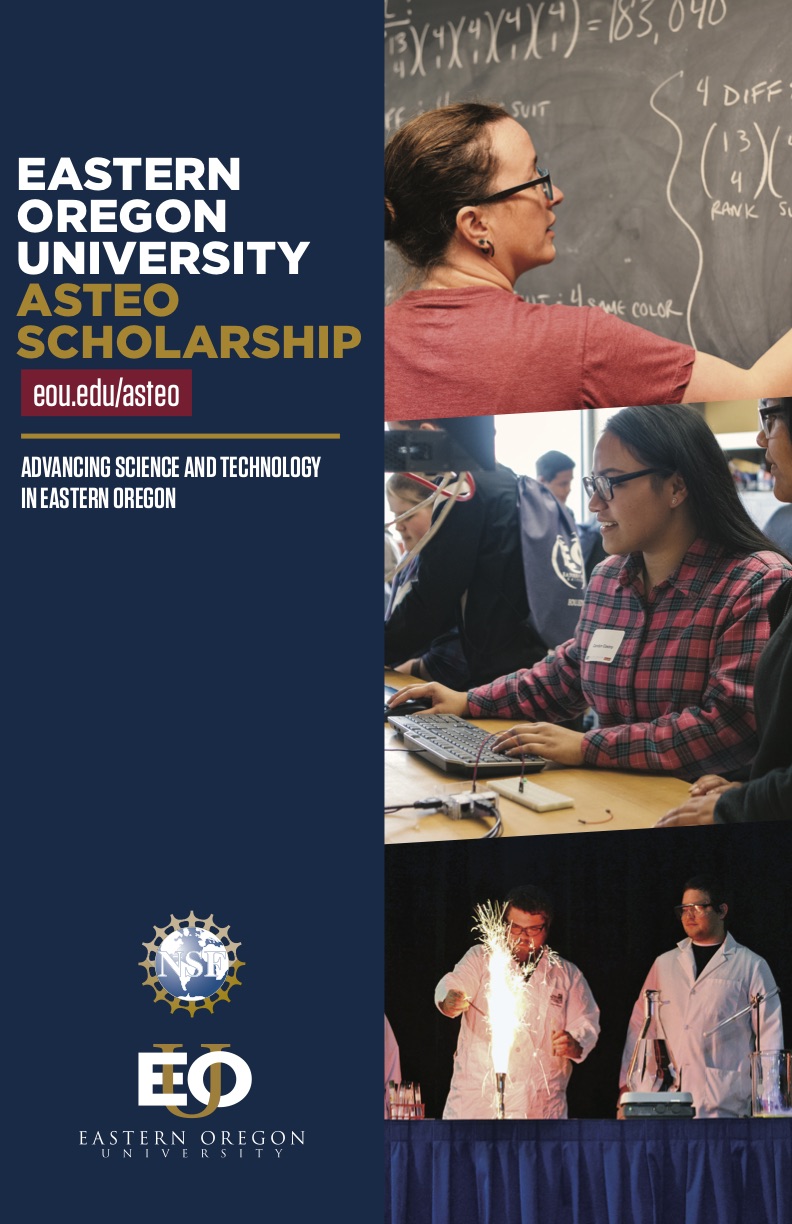 ASTEO is funded by a grant from the National Science Foundation's S-STEM Program and supports students intending to join industry or attend graduate school after finishing their undergraduate degrees.
Connect with the Admissions Office to apply to EOU.
For more scholarship opportunities visit our Financial Aid Office.
ASTEO Scholars – Advancing Science and Technology in Eastern Oregon
Are you a freshman or transfer majoring in biology, chemistry-biochemistry, computer science or mathematics? Are you intending to pursue a career or a graduate degree in these subjects? Apply for our new ASTEO Scholarship!
Application deadline March 1, 2020
ASTEO Scholars will:
Receive up to $7,500 annually for tuition and fees (four-years for freshmen, two-years for transfers)
Participate in hands-on learning beginning their first year of study
Live in a STEM community in our top-notch residence halls
Attend monthly activities with STEM faculty
Be eligible for summer internships to build strong résumés
Be eligible for a paid position as an ASTEO Ambassador for EOU!
To apply:
☐ Major in a STEM field: biology, chemistry-biochemistry, computer science or mathematics (excludes Healthcare & Education majors)
☐ Apply for admission to EOU
☐ Be a freshman or transfer student attending our La Grande campus
☐ Submit EOU's ASTEO scholarship application
☐ Demonstrate plans to pursue a career or enter graduate school in a STEM field listed above
☐ Have a SAT math score of 550+, or an ACT math score of 25+
☐ Submit your FAFSA application (opens October 1)
☐ Be a U.S. citizen, permanent resident, national or refugee
Selection process:
The ASTEO application is open October 1 through March 1. Applicants must submit an application online and demonstrate financial need for eligibility. The process involves a thorough application review followed by an interview with the ASTEO Scholars selection committee.