Mountaineer Magazine
The Mountaineer Magazine
The Mountaineer Magazine is a free publication distributed to alumni and friends in partnership with the EOU Foundation. View past issues by clicking the cover images below. Have a story idea to share for possible publication? Contact University Advancement at ua@eou.edu.
Inside the 2017 summer/fall issue
Biology grad leads ocean conservation efforts at Vancouver Aquarium
OHSU grant supports outdoor activity program
New coaches join Mountaineer Athletics staff
Faculty members published this year
EOU Foundation reaches new heights in year-end giving
Base-to-Bachelor's program launches in Klamath Falls
Donor spotlight: Alumna gives back
Alumni news and more!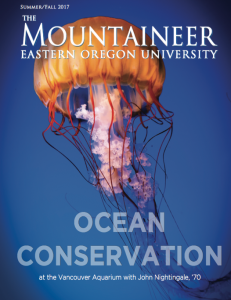 View as Flipbook
Download the PDF
Past Issues
Share: