Submitted photo/More than a dozen current and former EOU students, faculty and staff are involved with a unique production opening June 21-22 in McKenzie Theatre in Loso Hall.
Celebrate summer solstice with "The Dark Side of the Moon"
June 12, 2013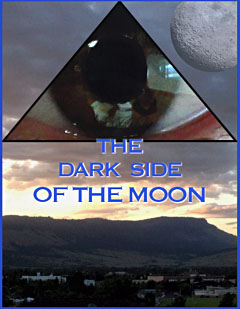 LA GRANDE, Ore. (EOU) - The first weekend of summer brings an opportunity to experience Pink Floyd's iconic album, "The Dark Side of the Moon," in a whole new way.
Eastern Oregon University presents a musical showcase of the British avant-garde group June 21-22. The event includes a video perspective of modern life in eastern Oregon, with images inspired by themes addressed in the music.
Show times are 7:30 and 11 p.m. Friday and 8 p.m. Saturday in McKenzie Theatre in Loso Hall.
"If you are a music fan, don't miss this event!" said Roger Barnes, co-producer of the event. "If you aren't familiar with the music, but are a fan of living in eastern Oregon or just enjoy a show, don't miss it either!" 
Barnes said the project initially began with a brainstorming session between a few friends and quickly grew into a full-scale production with the help of more than a dozen current and former EOU students, faculty and staff.
Graduating senior EOU vocal student Holly Sorensen joins Barnes as co-producer. She'll be performing a rendition of "The Great Gig in the Sky" which promises to be a highlight of the program.
"One goal of the project is to bring community members and visitors together for a brief moment of introspection into the idea that regardless of our separate walks of life, we are all on the same path with the same conflicts, trials and occasional triumphs," Barnes said.
The other primary goal of the show is to raise funds for EOU's music and theatre departments to use in developing future productions, and all ticket sales go directly to the cause. 
General admission is $10. Tickets are available at the EOU Bookstore on campus, the Mountaineer Market at 1008 Adams Ave., Benchwarmers Pub and Grill and The Longbranch. 
Tickets may also be purchased online at www.eoudarkside.org via a secure server courtesy of the EOU Foundation. Select "Tickets" from the main links menu and then click the EOU logo to be taken to the payment portal.